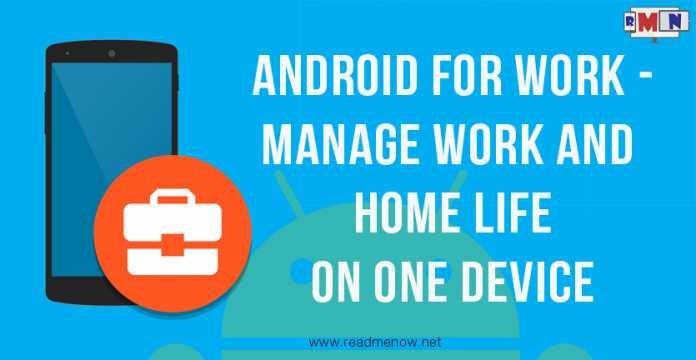 Let's rewind ourselves back at Google I/O 2014, Google made an announcement regarding it Android for Work program, which would make it easier for us to use one device for work and home. Google announced its partnership with a few selected companies for this program back in February 2k15. And as of today, Android for Work has proved its mettle.
Teaming up to transform business mobility
Android, with its billions of users, has become the most popular OS. With Android for Work, it will be a hell lot easier to manage work and personal files on you Android smartphone. With your IT administrator's support, the Android for Work app isolates and encrypts work data, including productivity, third-party, and internally developed applications. Use the Android for Work app to access all the business tools you need to get your job done.
Why use Android for Work?
Keep business apps and data separate and safe
Separation

Business data lives in a dedicated Work Profile separate from personal apps and data.

Data Protection

Business data is encrypted and can be remotely wiped with additional VPN support for the work profile.

App Security

Apps are approved, configured and deployed by IT and distributed by Google Play for Work.
Standard control across all devices
Policy control

Set policies for the Work Profile to enforce security and prevent data leakage.

Consistent management

Business features are built into Android 5.0 and available through a downloadable app for Android 4+ devices.

EMM Integration

Manage Android devices with standard APIs, using a single enterprise mobility management (EMM) console.
More choice, features and functionality
Deployment

Securely deploy any Google Play app or internally developed apps via Google Play for Work and purchase paid licenses in bulk.

Management

Manage application-specific Work Profile policies, whitelist apps and prevent installs from unknown sources.

Development

Develop internal business apps easily using the Android application framework.
Work with any platform or file type
Connect

Connect wherever you are with enterprise apps for mail, contacts, calendar and tasks. Full support for Microsoft Exchange, IBM Notes and Google Apps for Work.

Collaborate

Edit in real-time using Docs, Sheets and Slides, designed and optimized for mobile devices.

Chrome

View the web safely with a secure version of the Chrome Browser.
-Source Google
Learn more about it from the official page of Android for work.
What are your thoughts on the same? Let us and our fellow readers know about your views in the comments section below.
Keep following ReadMeNow for more such updates on topics that matter.